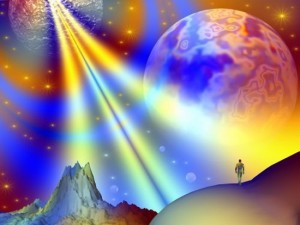 If you follow my Tumblr blog then lately you may have heard me discuss the day to day effects of a transit period that is currently creating some intensity. This transit period is one that is going to last for some time, but lately the effects have been magnified simply by what is going on in the sky. So today I thought we would look at this particular aspect a little bit closer. What aspect is that? That would be the aspect where Uranus and Pluto get a little frisky with each other. Why is this such an intense aspect? Well, we have the planet of giftedness, genius, and unconventionality (Uranus) mixing with the planet of death and transformation (Pluto). What does that mean for you in English? Let's get to it.
This is a 140 year period where these planets interact in a number of significant ways. In the 60s we saw this aspect move into Virgo which immediately created a period of genius activities and the Computer Age was born. In the 70s this aspect moved into Libra, and some balance was restored in the cosmos.
The time has come again for Uranus and Pluto to get frisky again, and what this will mean is that the collective unconscious will change as a whole. Our way that we think as a group, as a culture, as a society, is going to change. It is what I frequently refer to as the Age of Awareness. More and more people are entering the path of enlightenment than ever before, and this aspect can take a tremendous amount of credit for that.
At the same time Pluto, the planet of death and transformation reminds us that this is a time to let go. A time to truly transform in the way that you were meant to transform. Let go of those fears, the dead relationship, the things that are only adding toxicity to your life. Let them all go now, and rebuild anew, and the giftedness and geniusness of Uranus will allow you to do just that.
This is an alignment that some may fear and dread, and will last until 2015. As you can see though, the power is in your hands to create the life and the enlightenment that you seek, independent of anyone or anything else. Be sure that you follow my Tumblr blog and the planets board on my Pinterest page to stay up to date on all of the aspects the planets are throwing at us, and my advice on how to get through it. In terms of this particular one though my friends, harness your inner genius, and let those fears out on the curb where they belong. Do enjoy, until next time, Love, Norah